Sunday, September 2, 2007
Past Event
Sunday, September 2, 2007, 9 a.m. to 3 p.m.
Steamboat Springs Airport, 3495 Airport Circle, Steamboat Springs
Not available / Free - $5
Photo Gallery
Wild West Air Fest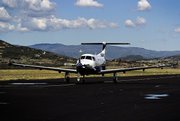 Steamboat Springs — Don't let the body of Mike Forney's vintage 1965 Cessna Skylane 300 fool you. Inside lies a few modern amenities, including a NEXRAD radar-equipped GPS unit that keeps Forney in the air 200 hours a year.
On Saturday, Forney - an avid local pilot and a member of the Yampa Valley Airport Commission - took his Skylane for a quick morning flight around the valley, landed at Steamboat Springs Airport, grabbed a microphone and emceed the Wild West Air Fest Vintage Aircraft and Warbird events.
One after one, pilots executed the 320-degree landing pattern to touch down on the Steamboat tarmac.
Many military planes made the flight into the Yampa Valley, including John Grace's enormous U.S. Navy T-28 and the Romanian-built replica of a Russian military Yak-52 owned by Cody, Wyo., resident Bob Till.
But it was what some of the vintage military planes lacked - such as radios - that made for the most interesting flights.
"You don't need a radio, I flew here from Crawford with a sectional chart and ground reference," said Charlie Huff, whose tiny World War II Piper J-3 Cub flies at 60 miles per hour and has a 12-gallon tank. "When you're closer to the ground, you have time to look around."
The retired Continental Airlines pilot is now a member of the Commemorative Air Force, "a flying air museum." Huff said the final 2.5-hour leg from Glenwood Springs got a little dicey trying to search for visual landmarks over the Flat Tops Wilderness Area.
"Anybody can look at plane in a museum, but you want to see them fly," Huff said. "It's fun to take your life in your hands and come over the wilderness. At least with this Cub, you can put it down to land in a lot of tight places."
Huff could've elaborated, but he was distracted by the British Spitfire's fly-by.
Bill Greenwood made the flight from Aspen to Steamboat in his elliptical-winged, two-seat Spitfire fighter. He said he invested in the 1983 classic - a Rolls-Royce V12-powered plane forged in the "Battle for Britain" - for three reasons.
"One, because of the way it flies. Two, because it's beautiful. And three, because it's one of the most historic planes out there."
Greeley's Bert Sutton brought a plane to the Air Fest, too, but he was taking in the day's events from the ground. A miniature version of himself, seated behind the controls of his 118-inch, $7,000 remote-controlled plane, however, saw the valley from above.
"It's an addiction. It has all the key ingredients for a male hobby - makes noise, burns fuel and costs money," Sutton said after performing a freestyle acrobatic demonstration with the plane.
The Air Fest also drew a lot of future pilots. Toy plane-toting children were entertained and educated by computer flight simulators set up by the Wings Over the Rockies Air and Space Museum, based out of Lowry Air Force Base.
Event organizer and Steamboat resident Joe Birkinbine has been flying for 27 years and teaching others to fly for 19 years. He said Saturday's events were about more than vintage planes and thrilling fly-bys.
"The airport runway can be the most important main street of any community," he said. "Today, people can come in and experience a tremendous community asset known as the Steamboat Springs Airport."
Events continue today at the Steamboat Springs Airport. The Vintage Aircraft and Warbird fly-in runs from 9 a.m. to 3 p.m., with remote-controlled airplane shows at 10 a.m. and 1 p.m. Visit www.steamboat-chamber.com for more details.