Sunday, September 2, 2007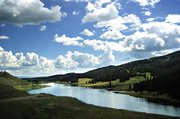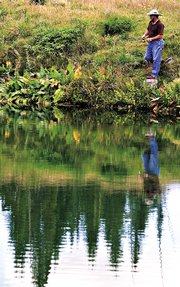 Yampa — From the clang of the cattle guard, it's a bumpy but breathtaking 17 miles up Forest Service Road 900 to Stillwater Reservoir.
What unfolds during the drive are three stunning reservoirs, a highly-coveted, crystal-clear fishing pond fed by a mountain spring, recreation trails, campgrounds, access to the Flat Tops Wilderness area and Routt National Forest and - most important - the ability to get away.
Jason West, a developed recreation program director for the Forest Service's Yampa ranger district, said the Bear River Corridor, which includes the Bear River, is a unique area for South Routt residents and visitors to explore.
"We have opportunities here you won't find anywhere else because we're a niche," he said. "We have access to just about anything you could want including the typical forest experience as well as access to the backcountry."
Adventurists have long been coming to the area to tackle the often daunting Devil's Causeway, a short but strenuous hike that is accessed from Stillwater Reservoir.
"It's one of the most-hiked trails in Routt County," he said. "Sometimes you'll see cars parked a mile down the road from the trailhead."
Besides hiking, biking, horseback riding, hunting and motorized access, the area offers "unprecedented" fishing, partly because the Forest Service and Colorado Division of Wildlife keep the area's bodies of water well-stocked with a variety of trout, he said.
"We have excellent fishing here," he said. "We've had people catch over 100 fish in a couple hours."
Cold Springs Pond is a crystalline pond fed by two mountain springs. The pond's trout don't enjoy much cover and have educated themselves to recognize a fishing line, West said.
The catch?
Limited camping spots.
"It's one of our areas people fight over to get to," he said. "It's nice because people like to show their kids the trout while they're fishing."
Limiting camping is one of the reasons the area has remained largely underpopulated, he said.
Locals and returning campers who know what's in store for them up the corridor have benefited from several new improvements including restroom facilities in the Bear Lake Campground, a new informational kiosk and recently maintained roads. Camping ranges in price from $3 to $10 a night.
"That's about the cheapest camping fee you'll ever find in the history of the world," West said.
The area's campgrounds can accommodate campers with everything from tents to 30-foot RVs, he said.
"You can still have the primitive experience if that's what you're looking for, or you can bring the house with you," West said. "People are still going to get a good experience that's never overcrowded."
Diann Ritschard, spokeswoman for the Forest Service, said preserving areas as beautiful as the Bear River Corridor, and all national forestland, is vital for future generations.
"Our mission is to care for the land and serve people," she said Wednesday coming down F.R. 900. "I think this is an excellent demonstration of that. We've been managing this land for more than 100 years, and the public has been enjoying it longer than that. Together, we're taking care of it, keeping it clean for future generations to have."
West agreed.
"In my on time, I like to talk about the backcountry. In my off time, I like to get out there into the backcountry," he said. "It's just a beautiful area."
For more information, call the Yampa Ranger District at 638-4516.
-To reach Alexis DeLaCruz, call 871-4234
or e-mail adelacruz@steamboatpilot.com