Saturday, September 1, 2007
Past Event
Sunday, September 2, 2007, 3 p.m.
Brent Romick Rodeo Arena, 501 Howelsen Parkway, Steamboat Springs
Not available / $15 - $33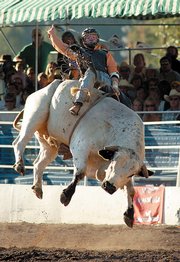 Steamboat Springs — After suffering a shoulder injury in January, bull rider L.J. Jenkins has a new appreciation of the Professional Bull Rider's U.S. Smokeless Tobacco Challenger Tour.
This weekend, Jenkins will be among the field of top bull-riders from around the country hoping to collect a share of the purse at Rocky Mountain Bull Bash. The event will take place at Brent Romick Rodeo Arena on Sunday at Howelsen Hill. Gates open at 3 p.m. and the first bull is scheduled to blast out of the chutes at 5 p.m.
Normally the tour, one of four offered by the PBR, is for young bull-riders hoping to earn a shot at the more lucrative, nationally televised Built Ford Tough Series.
But for Jenkins, who missed 18 events during a four-month layoff this season, the Challenger Tour has kept his career on track as he attempts to return to the PBR World Championships, where he won it all in 2006.
"If it wasn't for the Challenger Tour, I wouldn't be going to the finals this year," Jenkins said.
Jenkins, who is currently ranked fifth on the Challenger Tour, will have plenty of top-level company this weekend as he hopes to strike it rich in Steamboat's mountain air.
"I've never been to Steamboat, but my schedule just happened to work out so that I could fit this one in," he said.
Jenkins plans to fly into Denver on Sunday, and make the three-hour drive to Steamboat just in time to compete.
"I'll probably roll in right before the first bull," he said.
Other top riders this weekend include Clayton Williams, who is leading the Challenger Tour standings; bull riding legend Tony Mendez, and Dustin Elliott, a world champion with the Professional Rodeo Cowboys Association.
Other PBR stars such as Kody Lostroh, Judd Mortensen, Josh Koschel and Jason Bennett will also be looking for the win Sunday.
"I don't worry about the other riders," Jenkins said. "If I don't ride mine, then none of that matters."
Not only will Mortensen ride in the Bull Bash, but he has also helped organize the competition for the past two years.
Several top rodeo stock contractors including Southwick, Robinson and Mendez will provide the bulls. The field should include several noteworthy animals like Powderkeg, Newcountry and Roadhog. Mortensen said a bull named Three Spots, owned by Priest Creek Ranch Bucking Bulls, could steal the show Sunday. Three Spots has been ridden eight out of 11 times out this season and scored between 88 to 93 points.
"He's the high money bull in the PBR this season," Mortensen said. "That means they've won more money on that bull than any other bull in the PBR."