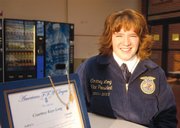 Oak Creek — If the Long family adopted official colors, they would be dark blue and gold - just like the colors of the National FFA Organization.
Former Soroco High School student Courtney Long recently received her American FFA Degree during the October FFA National Convention in Indianapolis.
Achieving the goal was five years in the making, Long said Wednesday.
Applicants are awarded their American Degrees after being out of high school for one year. Long graduated in 2005.
"From the very first time I filled out the application, that was the one thing holding me back," she said. "It's something I've wanted as long as I could remember."
Long said she joined Soroco's FFA chapter as a freshman mostly because her father, David Long, had been involved in FFA as a youth and because of her experiences living and working on the family's Lazy J Ranch on Routt County Road 27.
"My dad cried when I got my American Degree," she said. "It was so cute."
Courtney isn't the only Long following in family footsteps. Courtney's younger siblings, Glenda, a junior, and Joseph, a freshman, also are involved in the FFA program and may someday receive their American Degrees as well.
The American Degree is the highest level of membership any FFA member can achieve.
Byron Dean, Soroco High School's agriculture teacher and FFA sponsor, said less than one-half of 1 percent of FFA members achieve that level.
"Statistically, a school can expect to have one out of every 200 (FFA) students make it that far," he said. "In my 27 years here, we've had nine. We're way above the national average."
Dean thinks the reason Soroco students garner so many American Degrees is simple.
"They're good, hardworking kids," he said. "They're very active and dedicated in everything they do."
Likewise, Long said the high number of American Degrees that come out of Soroco is because of Dean's guidance.
"To have Mr. Dean get so many is an amazing honor for him," she said. "It says a lot about him and it says a lot about our chapter."
Long attended the University of Wyoming after high school, although she is taking time off school to pursue another longtime dream of running for FFA state officer.
"I'm going for president so they know I'm willing to do anything, but we'll see," she said.
Elections for state officers are in June.
If Long does not get elected for state office, she plans to return to school to study agriculture business. She wants to be a teacher.
"People think FFA is just about being on a ranch or ranching animals," she said. "But there is so much more to it than that. FFA is there to provide you opportunities for agricultural careers that aren't necessarily ag-ranching."