Wednesday, March 15, 2006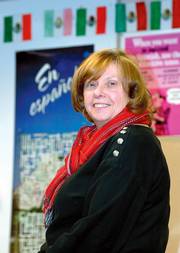 Early in the morning on a cold Friday, the last day before winter break, students in varying states of alertness - from walking dead to mildly sleepy - file into Nanette Waneka's classroom at Steamboat Springs Middle School.
Soft, instrumental Latin music plays quietly on a stereo, easing the students into their Spanish class and their day.
"Buenos dias, Sebastian, como estás?" Waneka greets a student warmly, tousling his hair.
The slow pace doesn't last for long.
As soon as all the students are seated, Waneka changes the music to a much livelier beat - class has begun. It is time to wake up.
"OK, you need to know this for your quiz, who is this?" Waneka calls over the music, clapping her hands together several times in quick bursts.
"Ricky Martin!" several students shout, as the familiar chords of Martin's hit "Livin' La Vida Loca" pulse across the room.
Jumping into a rapid-fire flashcard vocabulary session, Waneka's fast, enthusiastic pace matches the music.
"Trabajar. Correre," the students say in unison, reciting the Spanish words for "work" and "run" as Waneka flips through cards depicting the actions.
"No, no, correre," Waneka corrects, rolling the first "r" sound before the students try it again.
"Corrrrere," they say, exaggerating the roll.
"Excellente, muy bien!" Waneka cheered. "Perfecto! Now again:"
Less than five minutes into the class, it feels like time to take a breath.
A fountain of exuberant energy, Waneka has taught languages at the middle school since 1992. The liveliness - along with her famed love of chocolate - has made her a landmark at the school, where she teaches Spanish to 141 students every day.
"Nanette is our cheerleader," middle school Principal Tim Bishop said. "She's one of the most positive individuals I've ever worked with or known."
Waneka is a Steamboat local. For a long time before coming to Routt County, she was a local halfway around the world.
For 15 years, from 1976 to 1990, Waneka lived with her family in the western Saudi Arabia town of Jeddah, near the Muslim holy site of Mecca and the Red Sea, while her husband worked for Saudi Arabian Airlines. She said the experience showed her a completely different social structure.
"It was very segregated," Waneka said over coffee. "The restaurants had men's sections and family sections, and on buses, women sat in the back. You had to pound on the side of the bus for the driver to stop."
Newspapers and magazines were heavily censored, she said, and the consumption of pork and alcohol was prohibited by law.
Nearly all of Saudi Arabia's roughly 24 million people are Muslim. The country, a monarchy that in 2005 held its first municipal elections in more than 40 years, is ruled by Islamic law with the Koran as its constitution.
During her time there, Waneka ran a pre-school called "Magic Carpet."
"It was completely different, but it was an adventure," she said.
The cheerful woman, with wavy brown hair that often falls over one of her bright eyes, is no stranger to adventures.
Raised in Broomfield, Waneka met her husband-to-be while he was in high school in Lafayette. She studied Spanish at Colorado State University in Fort Collins and at National University in Mexico City, lived in Ecuador for three weeks and traveled to Cuernavaca, Mexico with students on an intensive language-study exchange program.
Last year during April break, she went to Sweden with students as part of another exchange program.
"Steamboat really gives a lot of opportunities to not only students but to staff," she said.
After all of her travels, something keeps holding Waneka in Steamboat.
It could be her huge annual involvement in the Routt County Fair - where she consistently enters everything from quilts and cross-stitches to cookies and floral arrangements - or it could also be the pull from her growing collection of magnets.
Adorning a large chunk of one of the white boards in her classroom, the collection could index a world atlas. Bali. London. Puerto Vallarta, Mexico. Florida.
"I have them from all over the world," Waneka said. "Whenever a kid goes somewhere, I say: 'Bring me a magnet!'"
In a windowless classroom that once was the school's auxiliary gym, any decoration helps spruce things up. Mexican flags line one wall near the ceiling, and strings of red chili-pepper lights run along the top of a white board and around Waneka's desk. In the back of the classroom, a couch and several comfortable chairs sit around a table adorned with a foam puzzle of Mexico.
"I have no windows, but it's bright," Waneka said about the room where she holds court throughout the school year.
Throughout many school years, that is. Now a veteran teacher in the district, Waneka began her Steamboat career in 1992 as a long-term substitute for current Steamboat Springs School Board member Denise Connelly - then a language teacher - who was on maternity leave.
This year, nine years after the school district named Waneka its Teacher of the Year in 1997, Waneka had Connelly's son in a seventh-grade class during the fall.
"Time flies," Waneka said with a laugh.
In a way, Waneka was returning a favor - or two - from Connelly.
"I had both of her kids in class," Connelly said. "And (Waneka's) daughter, Renee, used to teach Spanish between the middle school and the high school, which is the job I started out on. It's really small-town stuff."
"Nanette is one of my favorite people," Connelly continued. "She's so positive, loves the kids and has a wacky personality that really connects with them and that they remember. And I have the greatest admiration for her professionally."
Waneka said there is a simple reason for her love of teaching.
"I like to talk," she said. "It doesn't matter what language."